O V E R V I E W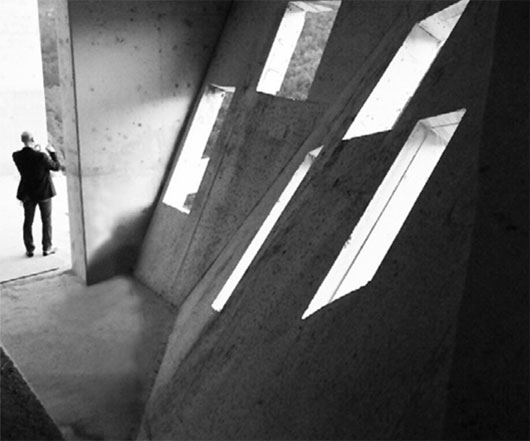 2015 witnessed a shift in growth for YTAA with a move to our new offices in the Karantina district of Beirut, acceleration into Europe through our commitment to the Brazza Bordeaux future neighborhood, and we saw further consolidation in Lebanon. With the publication of Youssef Tohme's book 'Intensive Beyrouth', the award of la Médaille de l'Urbanisme' from France's Academy of Architecture topped the year.
P R O J E C T S
EUROPEAN GROWTH, LEBANESE CONSOLIDATION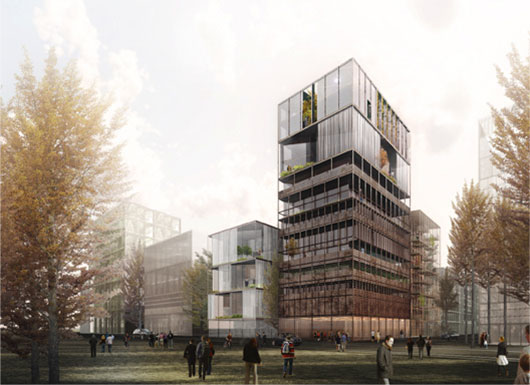 N E W L Y A P P O I N T E D
Brazza Soferti-Garonne - Bordeaux, France
The new district, for our client CAIR - Crédit Agricole Immobilier, offers a mix of homes, retail units and artisan spaces. Its 9,030 sqm of housing across three buildings features a 40 m tower as their dominant motif, and embraces the concept of adaptable architecture through five kinetic and transformable structures. We're utilizing purity and creating several structures with double facades allowing for the inclusion of external gardens. We're reflecting the industrial context of Brazza and allowing the inhabitant to live with the Garonne river and to experience it through generous external spaces.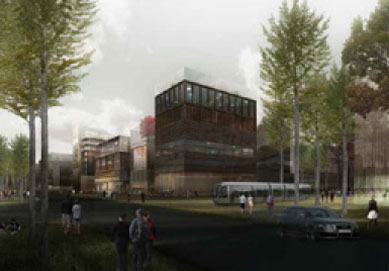 Studio Brazza - Bordeaux, France
At the heart of the creation this new neighborhood, Quai de Brazza delivers a fresh urban identity. On an area of 55,000 sqm, with mixed-uses including hotel, offices and leisure, we're blending innovation with alternative architecture in a spirit of openness and engagement for our clients ADIM Sud-Ouest. Eventually. it is expected that the area will be home to 8,000 people.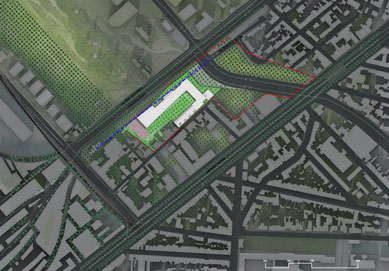 Mayaudon College - Bordeaux, France
This new college will host a targeted enrollment of up to 800 students, plus 64 students with severe and lasting academic difficulties, and will be built on the site currently occupied by Jacques Ellul College. It is a geographical extension to the Brazza neighborhood where we designed the landscape first, and inserted the college within it.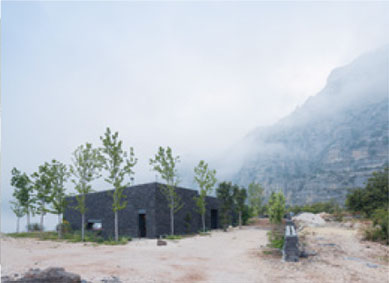 Villa SC - Akoura, Lebanon
Located on a cliff edge at 1,200 m above sea level and faced in locally hewn stone, Villa SC delivers a sense of direct emergence from the mountain. We enhanced this feeling – only the surrounding peaks are framed by the view, and the facade overlooking the drop is left entirely open, erasing all visual connection with the ground.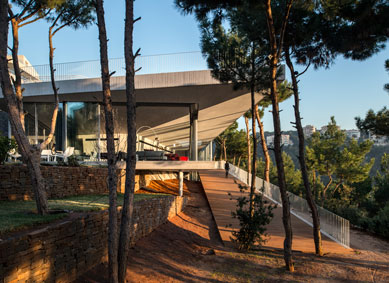 Villa T - Kornet Chehouane, Lebanon
Challenging the relationship of architecture within its environment, at surface level our work offers little impression of itself, yet below encompasses three strata of expansive livable concrete space. Cantilevered floors support the various elements, and a 70 m glass facade delivers both interior and exterior with one voice.

C U R R E N T L Y O N G O I N G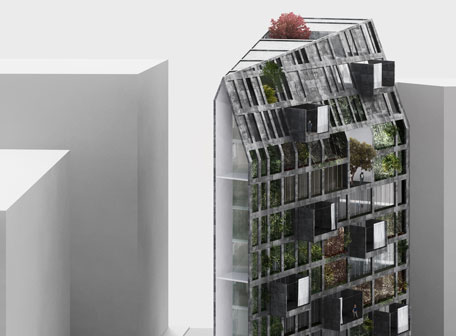 AMA

BEIRUT, LEBANON
The challenge of a triangular plot at the intersection of two streets inspired our solution of inhabiting two structural main facades which are carved into 40 m of gardens and terraces around a central core.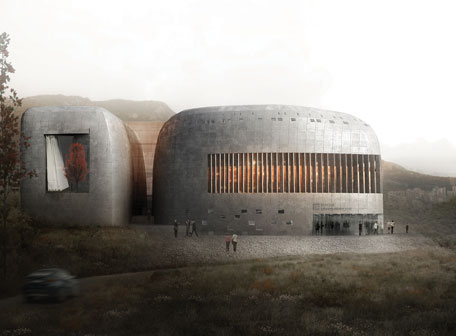 BANQUE LIBANO-FRANÇAISE

GHAZIR, LEBANON
Emergency data processing bunker for one of Lebanon's leading banks, it's duality between the brutal exterior and the inviting common interior essence reflects our rethinking around a contemporary disaster center.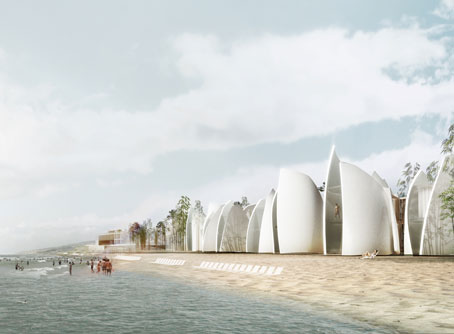 HAT BEACH RESORT

HALAT, LEBANON
For this resort hotel, we created 5 guest spaces, effectively refuges, along a 220 m sea front. We drew the sea into the site by creating double-height concrete shells giving the effect of a sailing regatta.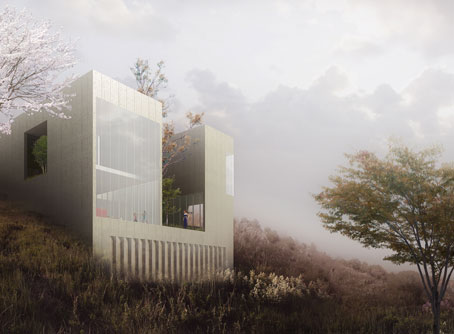 VILLA N

AIN AR, LEBANON
An undulating white concrete structure inserted into a steeply sloped site and organized around a triple-height patio. The elements of the project overlap from top to bottom, and are linked to the central courtyard. The roof also serves as a parking space.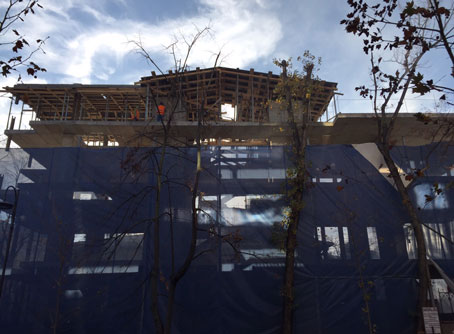 MUSEUM OF MODERN ART - PRIMAVERI
BUCHAREST, ROMANIA
The project involved adding one floor to the existing structure, and opening the museum toward the surrounding city. The actual process consisted of demolishing the original brick structure and then rebuilding it in black concrete.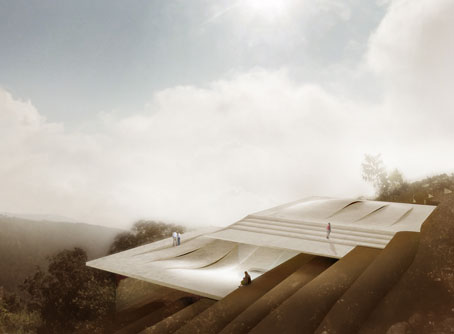 VILLA VR

AJALTOUN, LEBANON
The structure's gentle contours reflect its topographical placement. Two expansive roofs, rather like vast sheets, seemingly insubstantial yet solid, trace the outlines of two floors, with living areas on the lower level and bedrooms upstairs.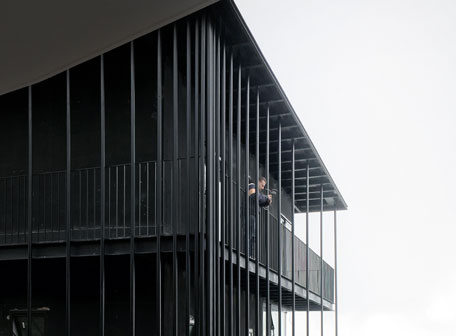 FH PROJECT

DAHR EL SOUWAN, LEBANON
Three superimposed villas on a steeply sloping and pine-forested site, connected by the site and the trees, each still emphasizes its individuality.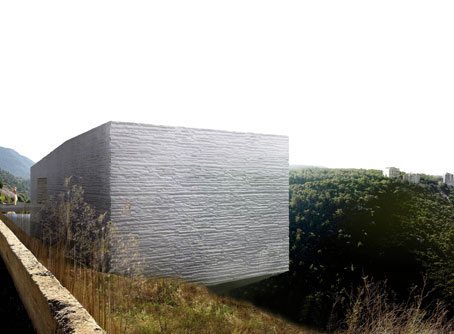 VILLA M

KORNET CHEHOUANE, LEBANON
Designed as an architectural extension of the mountain, its presence is one of a monolith. Inside – open plan, delivering evolving spatial experiences.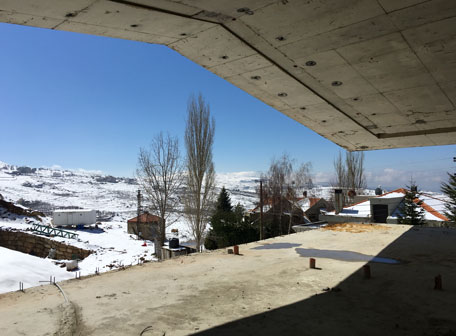 VILLA MNJP

FAQRA, LEBANON
A granite mountain chalet that presents private spaces within an extended family home, the separate lounges appear to hover atop the pool.

BRAZZA MULTIUSE DEVELOPMENT

BORDEAUX, FRANCE
Through a new vision of urbanism this 800,000 sqm development
connects the city to its surrounding environment. We've rethought the relationship between people and their city and won back for Bordeaux its river and its 60 hectares park 'Parc aux Angeliques'.
Brazza Multiuse delivers an invitation to live differently and pitches the inhabitant, and their relationship to the context, as the priority of the creation of a city.
I N T H E P R E S S
YTAA IN THE MEDIA
Reflecting our growing international presence, 2015 saw increasing interest and a growing number of calls from local press and specialist global architectural media.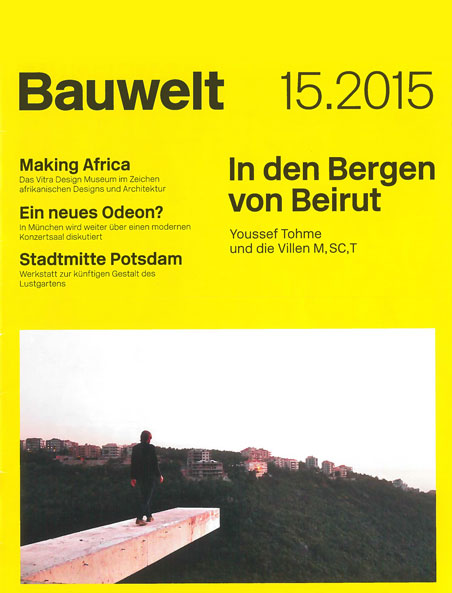 Bauwelt

April 2015
Youssef Tohme is rooted in Lebanon. Beirut's current construction boom is generating a welcome boost for its smaller builders. This is something he considers part of today's urban and rural landscape.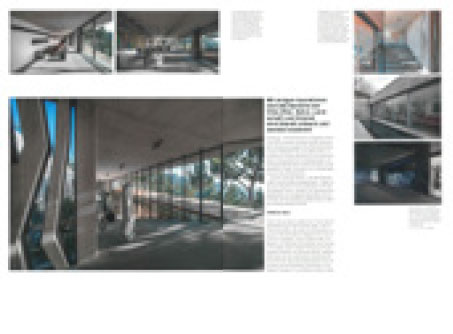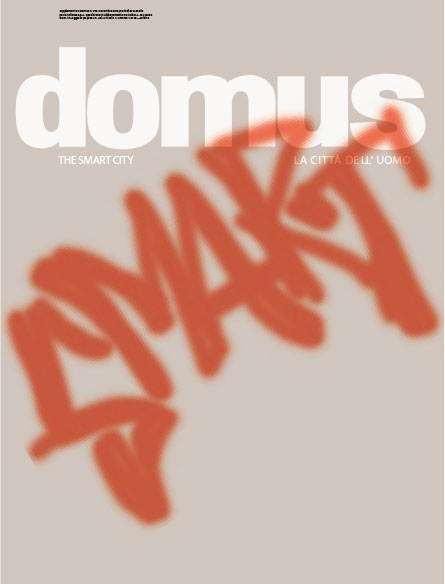 Domus

May 2015
In the hills of Beirut, the single-family house designed by these Lebanese architects does not impose on the landscape as a volume, but rather as an architectural promenade that rests on the slope...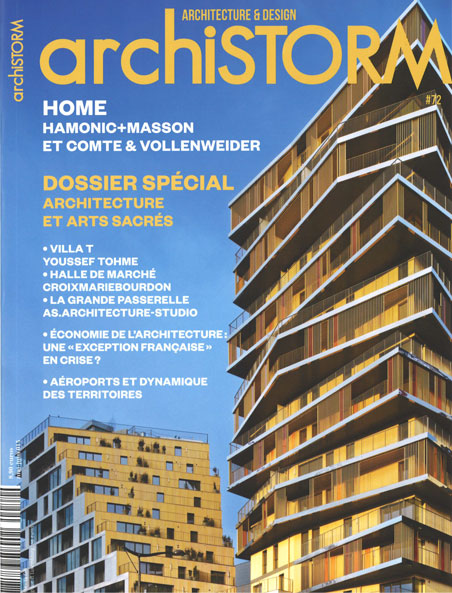 Archistorm

May / June 2015
The villa on a hill facing the sea is a off-repeated architectural motif, and the challenge was not to arrive at a new response to secure themselves a place in the story, but instead to ask "where do we live?"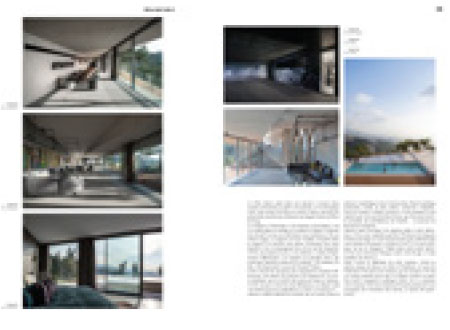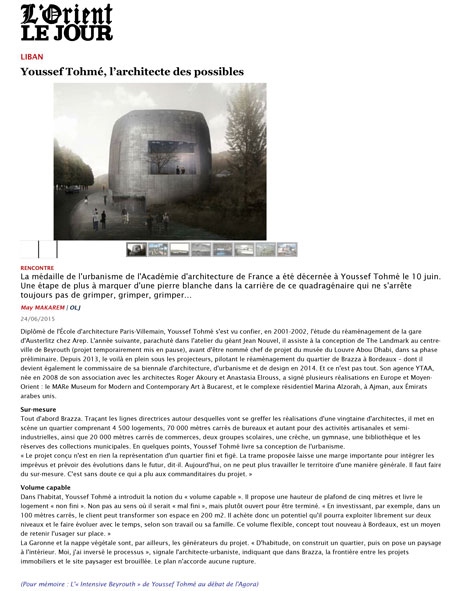 L'Orient-Le-Jour

June 2015
"La médaille de l'urbanisme" from was awarded to Youssef Tohme on June 10. One more step, and another milestone, in the career of this forty-year-old architect who refuses to stop and instead continues "to rise"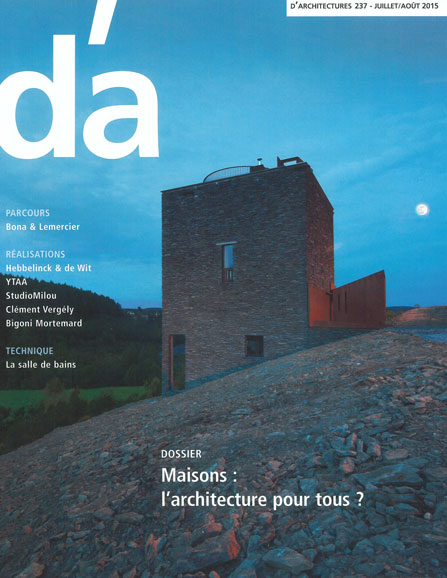 D'Architectures

July / August 2015
On a mountainside, overlooking the city and a mere 30 minutes drive from it, the view towards the sea is impressive; with Beirut to the left and scanning to the right, northwards,"up to Byblos."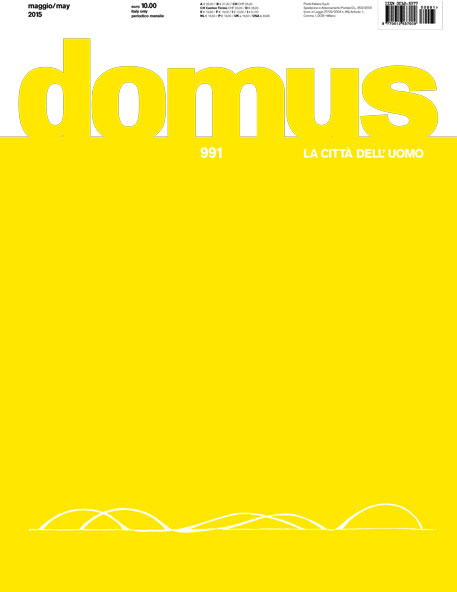 Domus

November 2015
This Lebanese office is reconstructing an extensive part of Bordeaux' right bank by following the principles of reappraisal, reclamation and rehabilitation applied to a former industrial zone…

D I A L O G U E
YTAA TALKS
Throughout the year, Youssef was invited to speak on a number of occasions and about a range of architectural topics.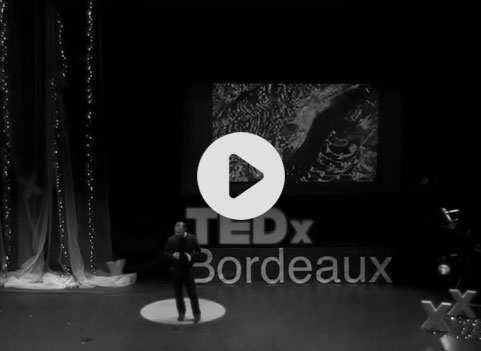 Architect of a world without limits: Youssef Tohme at TEDxBordeaux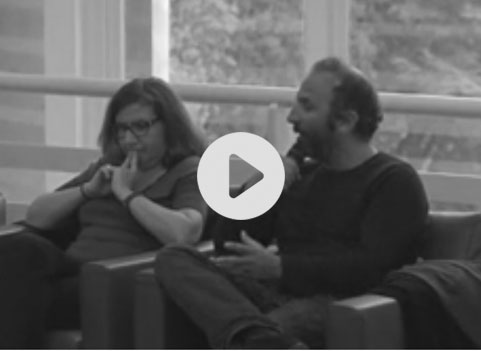 Beirut, urban fantasy. City of architectural heritage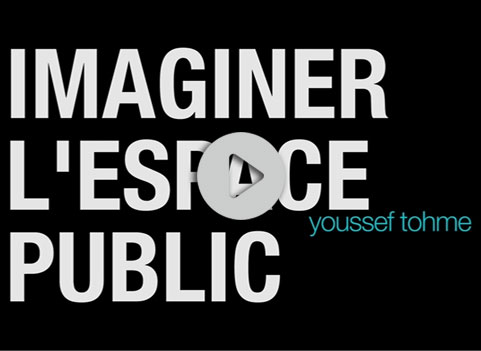 Agora Expo 2014: Alvéolo Interviews, #1 - September 2014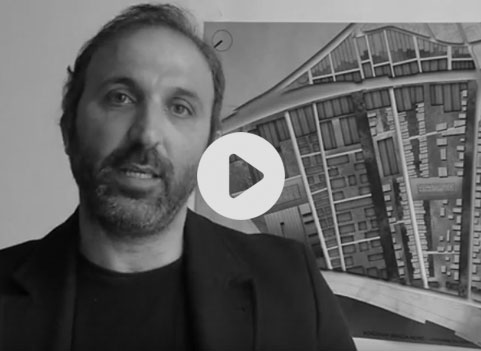 Youssef Tohme: Urban architect and Brazza project coordinator

N E W S
NEW OFFICES
As we continued to grow, the inevitability of a move to new offices presented itself. We found our ideal space on the southern end of Beirut, within an old industrial building that had previously been utilized as a tannery.

Its 5 m height and 600 sqm of uninterrupted space delivered us the flexibility we sought, and allows limitless opportunities for remodeling as we continue to evolve. A 70 sqm conference room connects daily to Paris, Bordeaux, Hamburg, Nantes,
Bucharest and Beirut for project evolution. An atelier maquette is positioned at the center of the space where model making remains the first medium we use to think and present contemporary architecture and urban planning. Three additional 25 sqm
areas are brought to life for meetings with clients, consultants, suppliers and contractors. An open space connects the team and allows for easy flow back and forth between the meeting space, model space and the construction site.
Intensive Beyrouth by Youssef Tohme
Published by Norma Éditions, Paris 2014, Youssef's impassioned architectural treatise is dedicated to Beirut and delivers a declaration of love for his tormented city. €25€ (bilingual edition French/English). In 2015 the book received the "Prix Méditerranée for Art Books", as well as the jury-awarded "Coup de Coeur" Special Prize.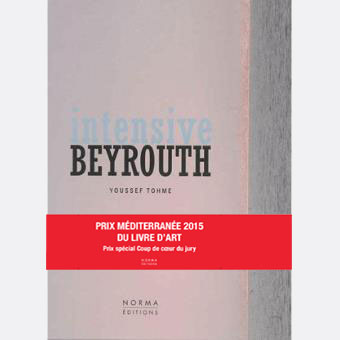 Presentation of Brazza Bordeaux Project
"La médaille de l'urbanisme" from was awarded to Youssef Tohme on June 10. One more step, and another milestone, in the career of this forty-year-old architect who refuses to stop and instead continues "to rise"
MIPIM Conference 2015
We attended the annual MIPIM Conference in Cannes, France during March and presented Brazza Bordeaux updates to the congress. MIPIM is the largest property exhibition of its kind, drawing in excess of 21,000 visitors.
Brazza Bordeaux Steering Committee
We secured a place on the steering committee for the Brazza Bordeaux project. Meeting every three months the committee includes elected city representatives, city service partners and is headed by Alain Juppé – leading politician and Mayor of Bordeaux.
Conference Marseille 2015
During the annual Conference Marseille, we presented our projects to an assembled audience of students and architects.
Youssef Tohme awarded 'La médaille de l'urbanisme' from France's Academy of Architecture
A rare honor from France's premier architectural institution, it rewards a design or a regional or urban achievement in the respect of the national heritage and aesthetic related to the site – in Youssef's case for his work around the region of Bordeaux.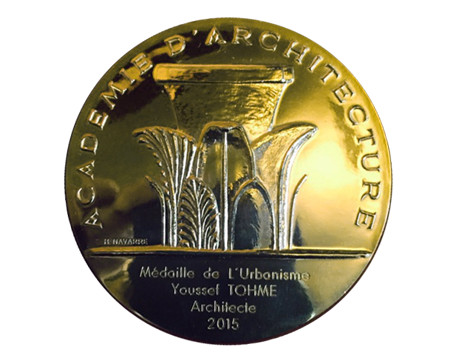 Forum des Projets Urbains 2015
We were invited to present the Brazza Bordeaux project during the Forum des Projets Urbains at the Palais des Congrés in Paris during November, an annual conference highlighting the nation's finest projects and mini-projects.
P R O F I L E
YTAA is a Beirut-based and internationally focused architectural practice. Established in 2008 by Youssef Tohme, Anastasia Elrouss and Roger Akoury, it has built a team of young Lebanese and international architects and developed a reputation for translating theoretical and technical research through the continuing execution of ongoing and delivered projects including Brazza Bordeaux in France; Campus de l'Innovation at Université Saint-Joseph, in Beirut; Alzorah Marina Square in Ajman, UAE and a series of private villas throughout Lebanon.
T E A M
Youssef Tohme / Anastasia Elrouss / Roger Akoury

Muhammad Mahdi / Lena Azar / Caline Mahrouk / Lea Ghorayeb / Georges Nader / Joelle Chaftari / Jimmy Nader / Christopher Khoury / Jihane Abou Ghazali
COMMUNICATION AND PUBLIC RELATIONS: Zeina Raphael - ZEINA@ALMAZCOMMUNICATION.COM
FOURTH FLOOR, KAMEL BUILDING, KARANTINA, BORJ HAMMOUD, BEIRUT, LEBANON - 00961 1 251765 - WWW.YTAA.CO / INFO@YTAA.CO
| | | | | | | | |
| --- | --- | --- | --- | --- | --- | --- | --- |
| © 2016 YTAA - YOUSSEF TOHME ARCHITECTS AND ASSOCIATES. ALL RIGHTS RESERVED | | | | | | | |